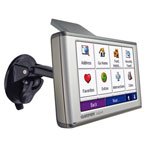 More than 10 available
Details
Shipping: Australia: free (more destinations)
Condition: Brand new
*The store has not been updated recently. You may want to contact the merchant to confirm the availability of the product.
Answer the call to adventure with nüvi 660, a sleek navigator and Personal Travel Assistant. This preloaded navigator brings a colorful widescreen display to the nüvi family and features hands-free calling, traffic alerts, an FM transmitter* and more.

Hands-free calling

nüvi 660, along with its counterparts nüvi 360 and the European version, nüvi 310, integrate Bluetooth wireless technology with a microphone and speaker that lets you make hands-free mobile phone calls. Simply dial numbers with the nüvi's touch screen keypad to make a call on a compatible phone. To answer calls, just tap nüvi's screen and speak directly into its built in microphone.

In addition, easily look-up and dial numbers from your personalized phone book or from your phones call history log. Dont know the phone number for your destination? Simply find and dial it from nüvi's extensive points of interest database including hotels, restaurants, stores, and attractions.

Navigate with Ease

nüvi 660 comes ready to go with preloaded maps and includes automatic routing, 3D or 2D map perspective, turn-by-turn voice directions that speak street names and a fingertip touch screen interface, making navigation easy. It also supports configurable vehicle icons fun, customized car-shaped icons in a variety of colors that show your position on the map.

See More with a Widescreen Display

nüvi 660 features a super-bright 4.3" widescreen display for improved map viewing, POI lookup and MP3/audio book playback. This landscape display has white backlight and a touchscreen for easy use.

Avoid Traffic Tie-Ups

Steer clear of traffic with nuvi 660's integrated FM TMC traffic receiver. Receive alerts about traffic tie-ups and road construction that lie ahead on your route. Next, simply touch nuvi's screen to view traffic details or detour around the problem area.

Enjoy Wireless FM Audio Transmission

With nüvi 660's wireless FM transmitter* you can hear audio, including voice prompts, MP3s and audio books, through your vehicle's stereo.

Go Beyond Navigation

Navigation is just the beginning. nüvi 660 includes many must have entertainment and travel tools including MP3 player, audio book player from Audible.com, JPEG picture viewer, currency converters, and more.

Optional software for language translation, detailed travel guide and Saver's Guide allow you to customize your nüvi for your travel needs.

* FM Transmitter feature is only available in the U.S., Canada, Australia and New Zealand.



Garmin part number: 010-00540-00

Suggested Retail Price:
$964.27 U.S.D. (for domestic US market only)

Expected Availability:

Now Shipping


nüvi 660 Features: Receiver: high-sensitivity WAAS-capable GPS receiver by SiRF
Display: 4.3 diagonal, 480 x 272 pixels; WQVGA TFT landscape display, with white
back-light and touch screen
Unit dimensions: 4.9W x 2.9H x 0.9 D (12.4 x 7.4 x 2.3 cm)
Weight: 6.2 oz. (190 g)
Battery life: 3 to 7 hours; rechargeable lithium-ion battery
Bluetooth wireless technology for hands-free calling
FM transmitter (U.S., Australia and New Zealand only)
Alerts for traffic, road construction and weather-related tie-ups. nüvi 660 uses data to suggest alternate routes before problems are encountered
Includes Garmin Lock, an anti-theft feature
Voice announces streets by name
Preloaded maps for all of North America or Europe
Fingertip touch-screen interface
Look up addresses and points of interest
Choose 2D or 3D map perspective
Upload custom POIs, including alerts for speed zones and safety cams
Built in Travel Kit includes MP3 player with sample MPs, audio books, picture viewer, world clock, currency and measurement converters, calculator and more
Add optional software such as Travel and Language Guides to personalize nüvi
SD memory card expansion slot
USB interface for loading data
Please note: Like most USB Mass Storage Devices, the nüvi is not compatible with Windows 95, Windows 98 or Windows Me.
... [Full Description]