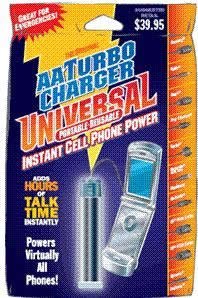 More than 10 available
Details
Shipping: Australia: free (more destinations)
Condition: Brand new
*The store has not been updated recently. You may want to contact the merchant to confirm the availability of the product.
Quantity: 1 Charger
Adapters: 10
Your Price: $25.99 each
Your Total Cost: $25.95 each
Suggested Retail Price: $39.95

Adapts To ANY Cell Phone! Each Charger contains 10 adapters to cover any phone: Samsung, Nokia, Sanyo, Sony Ericcson, Nextel, Motorola, Blackberry, LG 6000 Series, and 6100 Series, Kyocera Audivox

Featured on CNN, ABC, FOX and Sold Out on QVC in 6 Minutes!

* The Safest Way To Charge Your Cell Phone!
* Charge Anywhere, Anytime - Worldwide!
* Great For Power Outages and Other Emergencies!
* Runs Off A Single AA Battery!

DIGITAL - POWERFUL - CONVENIENT - LIGHTWEIGHT

Turbo Charge features exclusive Dual AlgorChip Technology for extra power and safety. This advanced design regulates flow of energy to the cell phone battery. Unlike ordinary chargers which try to send a full charge to your cell phone battery - risking damage or fire to your phone! So Don't waste your money on cheap imitations or expensive disposable units - get the original Turbo Charge today!

Frequently Asked Questions

What is an AA Turbo Charger?The AA Turbo Charger is a Battery-Powered, Reusable, Wireless Cell Phone Charger that runs on a single AA Battery and features advanced technology for extra power and safety. Perfect for Emergencies, Turbo Charge is the safest and most convenient way to charge your cell phone!

Why is the AA Turbo Charger different from all other portable cell phone chargers?AA Turbo Charger has an electronic circuit board (patent pending) with custom algorchip technology to prevent overloading the cell phone battery. In addition, unlike most, it is reusable - simply replace the AA battery.

Where can I use the AA Turbo Charger? Anywhere in the world. All you need is one AA battery.

Can the AA Turbo Charger damage my cell phone?Absolutely not! AA Turbo Charger guarantees against any damage to your cell phone or cell phone battery caused by AA Turbo Charger.

How long will a AA battery last in my AA Turbo Charger?The new AA Turbo Charger (improved chip, 10 adapters, worldwide mass distribution starts last week of May 2006) comes with an off/on break switch. Depending on your individual usage, one AA battery can last several months, and more. Expect at least 40 hours of stand-by time when in "on"-position consistantly, more efficient when in "off"-position when not used.

Will the AA Turbo Charger work with any cell phone?Yes! Each unit of the new AA Turbo Charger will come with 10 adapters of the most common brandnames in the cellular phone industry.

What is the size of the new AA Turbo Charger, can I carry it easily?The new AA Turbo Charger has the size of a lipstick holder, and can be carried including adapter conveniently in your pocket, or in a ladies purse.

How will I know when the AA battery needs to be changed? The blue light will no longer illuminate.

How do I know that my AA Turbo Charger is really charging?Displays of common cellular phone tell you "charging" once your AA Turbo Charger and adapter are connected to your cell phone(exactlly the same when you use your regular charger). Also, blue light on the upper part of your AA Turbo Charger indicates "charging".

Can I use a AA Lithium battery in my AA Turbo Charger? Yes

What do I do if my cell phone doesn't charge right away?If your cell phone battery has absolutely no charge it could take several minutes to recharge the cell phone in order for it to be operational. If your cell phone is still not charging, simply re-set your cell phone by removing the battery and then re-inserting it.

How can someone state that the new AA Turbo Charger can save lives?There are many reasons! Examples: Motor and battery failures while operating boats or automobiles, accidents in rural areas, accidents while skiing in the mountains, unexpected heart attacks or strokes while walking, fishing, skiing, golfing, or other activities. Job site accidents on construction sites, etc. There are countless examples where the new AA Turbo Charger can save lives!

Why 10 adapters, I only need the one for my brand?Fast paced environment of our time makes consumers change brand names very often, especially in the cellular phone industries. New models, new technology, loss or theft, there are plenty of reasons consumers change brandnames of their cell phones quite frequently. By adding 10 different adapters to each unit sold, we cover all common brand names. However, AA Turbo ChargeMarketing, Inc. also installed an adapter service, associates and customers may order adapters when needed.

If You Own A Cell Phone ... You MUST Own A Turbo-Charge!
... [Full Description]