TOP Secret Spy Camera Mini Clock Radio Hidden/Covert DVR 32GB SD Audio/video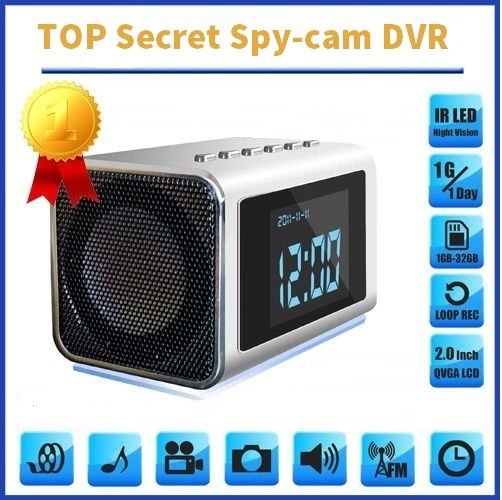 More than 10 available
Details
Shipping: USPS calculated - check
Condition: Brand new
*The store has not been updated recently. You may want to contact the merchant to confirm the availability of the product.
These are the newest version that use regular 12 hour format and not Military time. I had the factory make them this way just for my customers.

I do a full video review of this that has actual Low light 30 Watt, 60 Watt and 100 Watt tests from the camera itself. You can just skip to the end of the video to see the actual footage. I also test it out with IR night-vision only so you can see it with your own eyes...http://www.youtube.com/watch?v=ZPqF25zfC5

This camera is currently #1 in Amazons Hidden Cams department because of 40 customer reviews and an overall rating of 4.5 out of 5.


This clock/spycam has superb low light ability. 30 watts of light is more than enough to see every detail in a room. So, indoor poor lighting, or almost no lighting at all is OK with this device.. It also has 6 IR night-vision lights that help assist with really low light situations. (ie, only a night light on) Their range is a maximum of 8-10 feet from the camera and it has a spotlight affect with a round circle of visibility that gets wider with distance, even in total darkness. I'm actually totally impressed with its abilities. This does what units costing 300-600 dollars do, that are selling right here on eBay.. This is only the third clock I have found that meets my standards so I can sell it and this is the best one yet! It has perfect sound, video and long recording ability along with portability and plug in power. Because of its simplicity and ease of use, as well as its many functions, its now my go to device while traveling, and for security at home. I can also capture audio only and photos.

One thing I love about this clock is the Aluminum Alloy Construction. This thing is sturdy! Its sleek, and it looks and feels expensive. There are two really good speakers built in that can fill a room with sound despite their relatively small size. (see video) The other thing is the super smart interface for programming it. It has two levels of access.. If you load the MicroSD card (not included) with your own music and video, it can access that and will only show the "public" information that is not private. But if you know what buttons to press and for how long, it will reveal the inner layer of files that are hidden. This device will stand up to scrutiny from any adult or child. There is no indication of its double purpose and since its a fully functional multimedia device it has every reason to have the Micro SD card on it. It can easily be explained away by just showing the music files you have loaded on it and playing one.

Nothing on the exterior has any words or indication it is anything but a multimedia device. That's why I call it "TOP SECRET" Another plus is the totally invisible IR night vision lights. Some of the other devices like this have a slight glow to the IR lights. While that looks normal, its even better to have it be invisible like these. It also has an automatic feature for the IR in low light situations. Very handy! You can turn it so the IR lights are always on, or turn it so they are always off as well.

I have tested this out extensively and it can be plugged in with loop record (which means when the SD card is full it begins recording over the oldest files again. ) It has several different qualities of recording also. Long term recording to use the least amount of memory will take less than 1 GB per day. That means it can run for 32 days on a 32Gb card without overwriting old files! It has a light enhancement mode as well for low light situations. Even without the IR on, it can record great down to about 1-3 lux. (thats a nightlight) At that point the IR lights take over as it switches on automatically in total darkness.

There's zero graininess in low light, and no lines in the video either. Not to mention the sound quality is perfect.. You can hear a pin drop.

This can be plugged into a wall outlet or even a standard usb port on a computer for continuous use. Or, it can run on the included rechargeable battery.. It uses a standard Nokia cell phone battery that's easily replaced. It can run on that battery for about 3-6 hours of recording time. It will charge automatically while plugged in as well, and switch seamlessly to battery if the power goes off, until it returns. So if the power fails its no problem. It will keep recording until the power returns (up to the batteries ability, about 3-6 hours) and then switch seamlessly back to regular electric.

This clock is stylish, small and portable (3"x2"x2"). It packs easily and won't take up much space. Don't let its small size fool you though. Its packed with components and is actually a little heavy, like all well made electronics. The heft and feel of this are high quality. The 2 inch QVGA screen is bright and it comes with its own carrying bag. You can view and playback recorded files right on the screen so you won't have to pull out the SD card to check it on a computer. It comes with an included set of high quality earphones so you can plug it into the unit itself and it has a line in jack. The cords to go with it are included so you can just jack in your iPod and it will take over for the speakers. There is a built in radio with automatic station search features as well.

I offer a full 1 year money-back or exchange warranty on these so your satisfaction is guaranteed by refund or exchange.. If it has a problem with the unit I will even pay return shipping! No one else offers that, but I feel its the right thing to do. I hate the runaround and I won't let it happen to you.

The instructions on this are fairly clear, despite the bad translation. But I have done my usual and translated the important parts again to make it much easier to understand in perfect English. I also scanned in the tiny little instruction booklet and magnified it so its much easier to read. I email you a copy of the instructions and a HOW TO video after you purchase it, because its much easier to show than tell on a device like this. I'm an expert on this clock and I can help you figure out what you need.. If you want just shoot me an email telling me your situation and I will tell you what device I sell that would work the best..

I always ship next business day and on Saturdays before 4 pm. If you buy before noon, it usually will ship the same day. I ship priority mail (2-3 day service) and you will have this in your hands before you know it. (see my feedback!) I also ship internationally to many countries. A special welcome to Canadian customers! If it shows up in the shipping options you can get it..My shipping prices include insurance! he US post office is the most economical and fast way to ship. Most go worldwide for 25-30 bucks. Even express mail goes all over the world for only 35-45 dollars.

I have to ship to the PayPal address you have on file. I can ship to an unconfirmed address as long as it is the one you changed it too during the checkout process. There is a blue underlined link to "change address" while using PayPal. Its super simple and I can send it where you want it that way.

Features:
• Small, Portable, Supports Up To 32GB Micro SD Memory Card (not included)
• Hidden Video Camera
• LCD Screen To View Video Recorded, No Need To Remove Memory Card
• Hidden Video Camera Menu
• Infrared Night Vision
• Electrical Power Adapter (110V-240V), Constant Power Limitless Recording
• Battery Power Option For Portability
• Loop Recording Function, Record Video 24/7
• Automatic or Manual Record Modes
• Mini Entertainment Device: Video Recording, Still Pictures, Music Player, FM Radio
• Bright Easy To See Digital Clock

Package Includes:
• Mini DVR (I have them in silver right now..)
• Battery Charger
• Audio Cable
• Battery
• USB/power Cable (20 inches)
• Earphone
• Users Manual

Additional customer reviews. All from Amazon confirmed buyers.

"I use this to monitor my home while at work. I turn on the recording when I leave the house and off when I return. The unit is plugged into the AC charger all the time and since I have the spy camera set to loop record there is no need to delete files from the device ever."


"It served its purpose quite well ....the video image is good at night especially with soft background lighting....i am now single , ridding of a worthless parasitic girlfriend....if you have doubts....buy the camera and either prove or dismiss them :)"

"I bought one last couple weeks ago, unfortunately it seemed to work incorrectly. I contact to the dealer and got the response immediately. After returning the failure product I got the new one and now it works well. Thanks!"

"Very nice product. I used this to catch a thief and I did. The camera works perfectly, you can set your resolution, higher uses more storage space of course. I use low and 16GB and it can record up to 4 days. Easy to hook up to a computer and down load or watch from camera. I love the file partitions for each half hour so I only have to save what I need to my computer. The cord is short but I use a USB extension cord to hook to power for continues mode. The clock screen is way too bright for bedside clock but as someone else suggested you can buy a screen cover, same as for a smart phone. I highly recommend this product. I think if it had a alarm clock feature I would have replaced my bedside alarm clock with it. I'm going to budget buying more for my home office."

"Clock works great and is exactly as described. Can set auto mode to auto start recording after going into menu to listen to music or watch videos."
... [Full Description]