Clear Skin Beta 30 Day Acne Treatment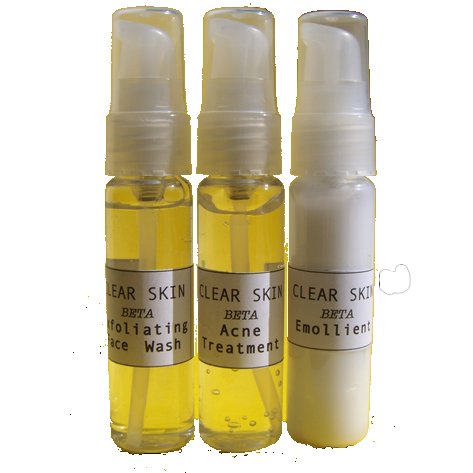 More than 10 available
Details
Shipping: USPS calculated - check
Condition: Brand new
*The store has not been updated recently. You may want to contact the merchant to confirm the availability of the product.
Clear Skin Beta ACNE TREATMENT 3 STEP SYSTEM



Acne occurs when tiny holes on the surface of the skin called pores become clogged. Each pore is an opening to a canal called a follicle, which contains a hair and an oil gland. Normally, the oil glands help keep the skin lubricated and help remove old skin cells. When glands produce too much oil, the pores can become blocked, accumulating dirt, debris, and bacteria. The blockage is called a plug or comedone.



The top of the plug may be white (whitehead) or dark (blackhead). If it ruptures, the material inside, including oil and bacteria, can spread to the surrounding area and cause an inflammatory reaction. If the inflammation is deep in your skin, the pimples may enlarge to form firm, painful cysts.



Clear Skin Beta ACNE TREATMENT's 3 STEP SYSTEM is the most effective and simple solution for a fraction of the cost of other acne treatments. The bacteria that attaches itself to the oils and dirt on your skin that can clog pores and create pimples is resilient. It must be destroyed and just washing your face once a day won't do it if you are someone that has a lot of breakouts. Your individual treatment depends on your lifestyle, the food you eat and how often you come in contact with acne causing bacteria. Most of the products out there don't explain how to determine just how often your skin needs treatment. The Clear Skin Beta system comes with a 100% money back guarantee because it does something no other acne treatment product on the market does. The Clear Skin Beta system will teach you how to determine your treatment and show you just how often you should treat your skin. You don't have to spend a lot of money at the dermatologist on over priced products to kill acne causing bacteria. You just have to be able to determine how often to treat your skin.



STEP ONE of the Clear Skin Beta system is a skin wash and gentle exfoliate that warms the skin and opens pores with a mineral found in volcanoes called Zeolite.



Ingredients: water (aqua), magnesium aluminum silicate, glyceryl stearate, PEG-100 stearate, disodium PEG-12 dimethicone sulfosuccinate, sorbitol, dimethyl isosorbide, tridecyl stearate, neopentyl glycol dicaprylate/dicaprate, polyethylene, cetyl esters, anthemis nobilis flower extract, sodium hyaluronate, Zeolite Minerals, sodium PCA, xanthan gum, tridecyl trimellitate, propylene glycol, imidazolidinyl urea, methylparaben, propylparaben, fragrance (parfum).



STEP TWO is the acne treatment, toner that kills the acne bacteria and deep cleans pores while removing blackheads. It's all natural and safe hypoallergenic formula can be applied when washing the skin isn't possible. It dries without irritating the skin or leaving residue behind.



Active Ingredient: Ethanol 60%

Other Ingredients: Water, Glycerin, Propylene Glycol, Carbomer, Triethanolamine, Fragrance, Tocopheryl Acetate, Retinyl Palmitate



STEP THREE cools the skin while deeply moisturizing and protecting the skin. Even if you have oily skin, you can still benefit from the use of a daily moisturizer. And, no, moisturizers don't have to leave your skin feeling greasy and looking shiny.



CONTAINS: Aloe Vera Gel, De-ionized Water, Avocado Oil, Hyaluronic Acid, Beta-Glucan, Essential Oils of Helichrysm, Sisymbrium, Palmarosa, Peppermint extract, Chamomile, Frankincense and Bois de Rose, Helio-Carrot Oil (A Natural Sunscreen), Apricot Kernel Oil, Wheat Amino Acids, Vitamin A, Vitamin D, Lecithin, Glycerin, Vitamin E, Allantoin, Evening Primrose, Grapeseed Oil.





Moisturizers are used to improve skin's hydration (think water-content of the skin, not oil-content). They work by slowing the evaporation of water from the skin, helping to keep skin hydrated. Depending on the ingredients used, moisturizers also:



* reduce moisture loss and increase water content of the epidermis

* form a protective barrier on the skin's surface

* give the skin a soft, smooth feel



Moisturizers are especially important when using any acne treatments.





Each Clear Skin Beta ACNE TREATMENT 3 STEP SYSTEM comes with a small facial loofah for deep cleaning and exfoliation. 2oz Face Wash, 2oz Toner (Acne Treatment), 2oz Emollient (Moisturizer) and Instructional Guide.
... [Full Description]